Bewise Inc. www.tool-tool.com Reference source from the internet.

幾何公差

公差記入枠を用いた指示方法
幾何公差を個々に公差記入枠を用いて指示する方法は、JIS B 0021 による(図41)。
なお、関連形体に幾何公差を指示する場合には、JIS B 0022 によってデータムを指示する(図42)。



図41 真直度公差の指示例



図42 直角度公差の指示例

最大実体公差方式の指示
はまり合う形体に対して、最大実体公差方式を要求する場合には、JIC B 0023 によって、公差記入枠の中の公差値又はデータム文字記号のすぐ後に記号Mを指示する(図43)。最大実体公差方式を同軸度公差及びデータムに指示した一般的な例を 図44 に示す。



図43 a) 位置度公差への指示例(公差値にMを指示)



図43 b) 位置度公差への指示例(公差値及びデータムにMを指示)



図43 c) 位置度公差への指示例(データムにもMを指示)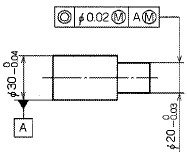 図44 同軸度公差及びデータムにMを指示した例

最小実体公差方式の指示
最小実体公差方式を要求する場合には、JIS B 0023 によって、公差値又はデータム文字記号のすぐ後に記号又はLを指示する(図45)。



図45 a) 位置度公差への指示例(公差値にLを指示)



図45 b) 位置度公差への指示例(公差値及びデータムにLを指示)



図45 c) 位置度公差への指示例(データムにもLを指示)

突出公差域の指示
突出した形体に対して、姿勢又は位置の公差を要求する場合には、JIS B 0029 によって突出公差域を指示する(図46)。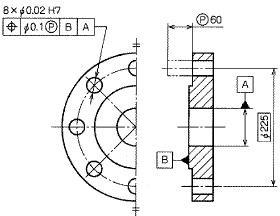 図46 突出公差域の指示例

一括指示方法
通常の努力で得られる幾何公差を指示する場合には、表題欄の中又はその付近に JIS B 0419 による普通幾何公差の公差等級を記号で指示する。
参考:
JIS B 0024 によって独立の原則の適用を要求した場合には、普通幾何公差を指示するのがよい。
例:
普通幾何公差のK級の場合 : " JIS B 0419-K "

なお、上記で引用されている、幾何公差、データム、最大実体公差方式、最小実体公差方式、突出公差域関連などのJIS規格は以下になります。
JIS B 0021
製品の幾何特性仕様(GPS)-幾何公差表示方式-形状,姿勢,位置及び振れの公差表示方式
JIS B 0022
幾何公差のためのデータム
JIS B 0023
製図-幾何公差表示方式-最大実体公差方式及び最小実体公差方式
JIS B 0029
製図-姿勢及び位置の公差表示方式-突出公差域
JIS B 0024
製図-公差表示方式の基本原則
JIS B 0419
普通公差-第2部:個々に公差の指示がない形体に対する幾何公差
BW Bewise Inc. Willy Chen willy@tool-tool.com bw@tool-tool.com www.tool-tool.com skype:willy_chen_bw mobile:0937-618-190 Head &Administration Office No.13,Shiang Shang 2nd St., West Chiu Taichung,Taiwan 40356 TEL:+886 4 24710048 / FAX:+886 4 2471 4839 N.Branch 5F,No.460,Fu Shin North Rd.,Taipei,Taiwan S.Branch No.24,Sec.1,Chia Pu East Rd.,Taipao City,Chiayi Hsien,Taiwan
Welcome to BW tool world! We are an experienced tool maker specialized in cutting tools. We focus on what you need and endeavor to research the best cutter to satisfy users' demand. Our customers involve wide range of industries, like mold & die, aerospace, electronic, machinery, etc. We are professional expert in cutting field. We would like to solve every problem from you. Please feel free to contact us, its our pleasure to serve for you. BW product including: cutting tool、aerospace tool .HSS Cutting tool、Carbide end mills、Carbide cutting tool、NAS Cutting tool、Carbide end mill、Aerospace cutting tool、Фрезеры'Carbide drill、High speed steel、Milling cutter、CVDD(Chemical Vapor Deposition Diamond )'PCBN (Polycrystalline Cubic Boron Nitride) 'Core drill、Tapered end mills、CVD Diamond Tools Inserts'PCD Edge-Beveling Cutter(Golden Finger'PCD V-Cutter'PCD Wood tools'PCD Cutting tools'PCD Circular Saw Blade'PVDD End Mills'diamond tool 'Single Crystal Diamond 'Metric end mills、Miniature end mills、Специальные режущие инструменты 'Пустотелое сверло 'Pilot reamer、Fraises'Fresas con mango' PCD (Polycrystalline diamond) 'Frese'Electronics cutter、Step drill、Metal cutting saw、Double margin drill、Gun barrel、Angle milling cutter、Carbide burrs、Carbide tipped cutter、Chamfering tool、IC card engraving cutter、Side cutter、NAS tool、DIN tool、Special tool、Metal slitting saws、Shell end mills、Side and face milling cutters、Side chip clearance saws、Long end mills、Stub roughing end mills、Dovetail milling cutters、Carbide slot drills、Carbide torus cutters、Angel carbide end mills、Carbide torus cutters、Carbide ball-nosed slot drills、Mould cutter、Tool manufacturer.
Bewise Inc. www.tool-tool.com
BW специализируется в научных исследованиях и разработках, и снабжаем самым высокотехнологичным карбидовым материалом для поставки режущих / фрезеровочных инструментов для почвы, воздушного пространства и электронной индустрии. В нашу основную продукцию входит твердый карбид / быстрорежущая сталь, а также двигатели, микроэлектрические дрели, IC картонорезальные машины, фрезы для гравирования, режущие пилы, фрезеры-расширители, фрезеры-расширители с резцом, дрели, резаки форм для шлицевого вала / звездочки роликовой цепи, и специальные нано инструменты. Пожалуйста, посетите сайт www.tool-tool.com для получения большей информации.
BW is specialized in R&D and sourcing the most advanced carbide material with high-tech coating to supply cutting / milling tool for mould & die, aero space and electronic industry. Our main products include solid carbide / HSS end mills, micro electronic drill, IC card cutter, engraving cutter, shell end mills, cutting saw, reamer, thread reamer, leading drill, involute gear cutter for spur wheel, rack and worm milling cutter, thread milling cutter, form cutters for spline shaft/roller chain sprocket, and special tool, with nano grade. Please visit our web www.tool-tool.com for more info.