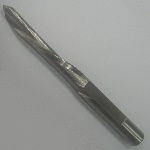 Product name:Sharp Top Single Flute Drilling Cutter
Characteristics:Specialized in working some materials like acrylic, plastic, and related ones. And work custom order according to special request. Single flute may speed the working period and shorten the time.
Bewise Inc., being a professional manufacturer of various cutting tools, is endeavoring to make excellent products. We are very experienced in custom-made tools, and good at solving customers' problems when they meet difficulties and troubles. Through everlasting research and practices, we understand thoroughly about different materials of cutters and cutting tools.
BW's popular products for tool series including circular saw, carbide cutting tool, saw blade, wood saw blade, special tool,side milling cutter, …etc; For machines we have spiral tube cooler, cutter grinder, and the latest design and advanced powder forming machine / pelletizer. Bewise is a superior manufacturer and supplier of cutter production and machinery industry.